"PA' LA CALLE" - TARQUIM . Vinyl 7"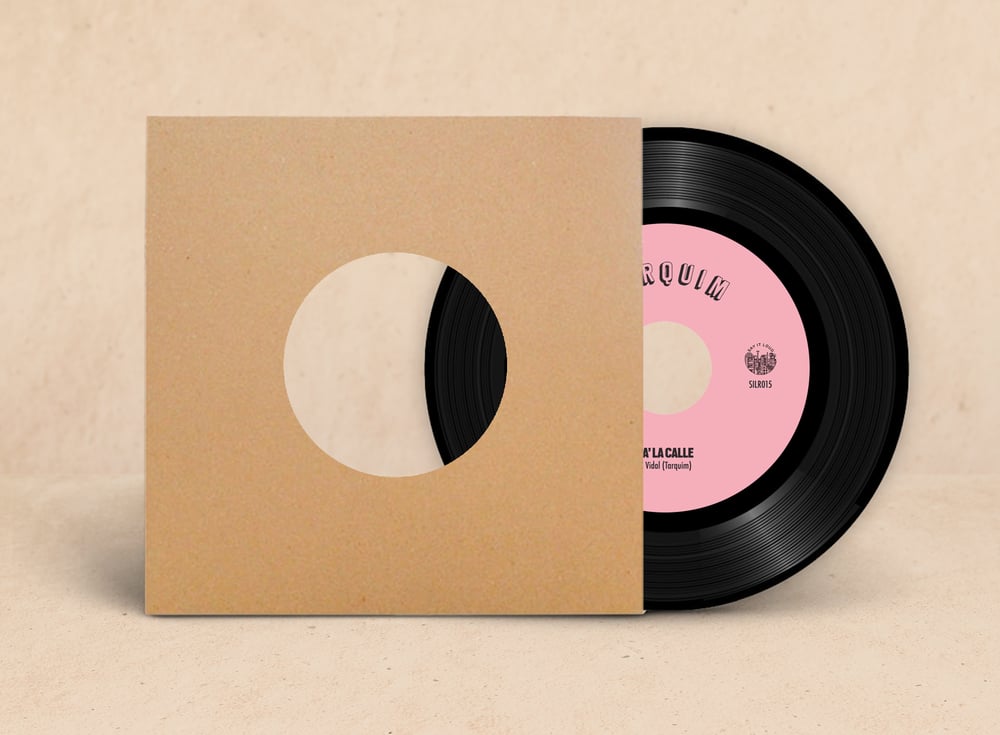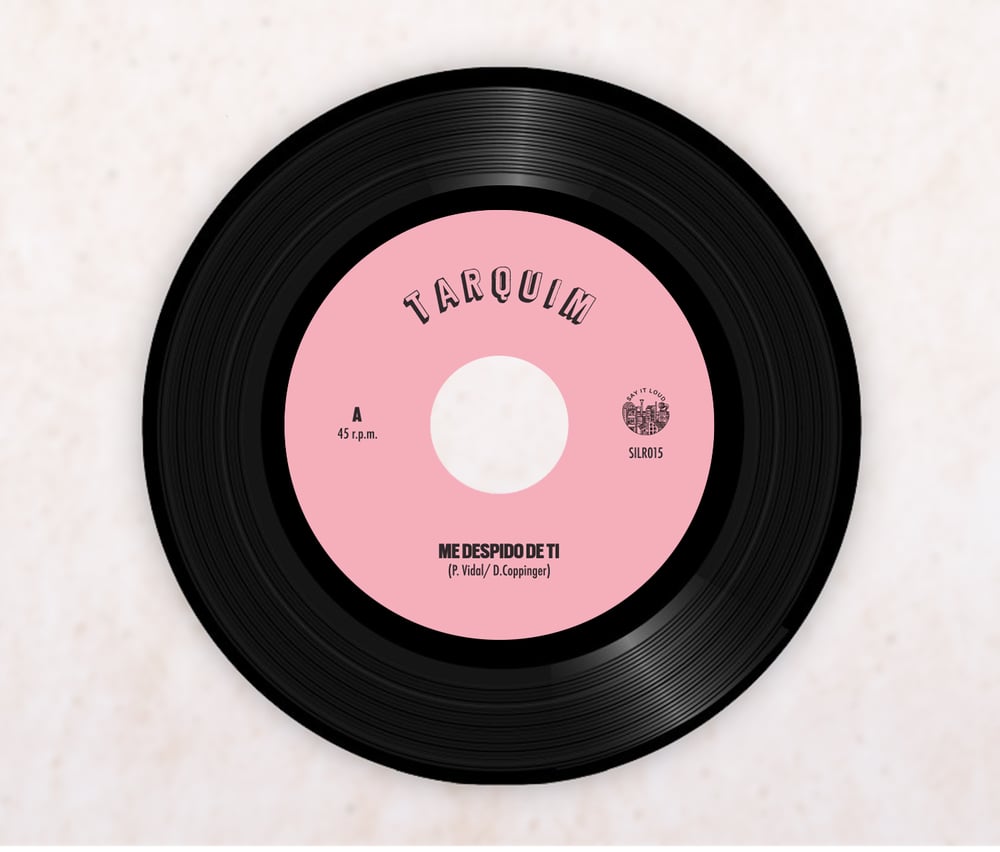 "PA' LA CALLE" - TARQUIM
SAY IT LOUD RECORDS
SILR 015
LIMITED PRESS / SINGLE 7" Vinyl / 45rpm

High quality vinyl pressing / Limited edition

A side:
ME DESPIDO DE TI
(P. Vidal / D. Coppinger)
Saxo, coros, composición música y letra, producción: Tarquim
Voz: Yadira Ferrer
Voz, guitarra, maracas y co-composición de letra: Diego Coppinger
Tres y coros: Frank Pereira
Contrabajo: Reinier Elizarde "El Negrón"
Claves y campana: Ori Martínez
Ingeniero Grabación: Manuel Larrosa
Ingeniero de Mezla: Jordi Mora
Mastering: Víctor García

B side:

PA' LA CALLE
(P. Vidal)
Tarquim: Composición, saxo tenor y flauta
Yadira Ferrer y Diego Coppinger: Coros
Yuri Hernández: Trompeta
Albert Costa: Trombón
Kevin Díaz: Piano
Robin Reyes: Baby Bass
Oriol Martínez: Timbal y bongó
Climent Campà: Congas y güiro
Ingeniero Grabación: Ferran Donatelli
Jerry Boys: Ingeniero de Mezcla
Víctor Garcia: Mastering

[CAST]
Tarquim es un lugar natural de creación a partir del estudio de diferentes tradiciones folklóricas. Una vasija, un crisol que acoge años de materia y la convierte en música. Tarquim es Pau Vidal. Un joven saxofonista, flautista y compositor que se hizo un nombre en la escena musical participando en proyectos de grandes artistas como Judit Nedderman y las Sey Sisters en el grupo The Gramophone Allstars, del que es miembro.

Una extensa carrera donde demostró su dominio de la música latinoamericana, el jazz, soul y el rocksteady, entre otros.

Tarquim, el productor, compositor y multiinstrumentista Pau Vidal, dio a probar el primer plato de su nuevo trabajo con "Me despido de ti" en la intimidad del confinamiento, un escenario doméstico, privado y solitario. Ahora, con la llegada del buen tiempo, "Pa la calle" sale al exterior al ritmo de guaracha, género cubano. El mundo vuelve a tomar las calles mientras Tarquim compone la banda sonora de este momento cantando "Codo a codo somos mucho más que dos" de Mario Benedetti. Así, su segundo single se convierte en una oda al regreso a las calles, reivindicándolas como parte esencial de la vida colectiva.

Con este deseo de volver a juntarse, después de largo tiempo en pequeños formatos, Tarquim amplía la sección de vientos para la ocasión. Introduciendo trompeta y trombón con Yuri Hernández y Albert Costa, músicos reconocidos que acompañan a artistas como Nathy Peluso. Una banda sólida que camina entre la música popular de baile y la improvisación de latin-jazzera característico de Tarquim.

"Pa la calle" es una grabación hecha en directo, toma tras toma, hasta encontrar aquella que, bajo las imperfecciones del directo, definiera el sonido colectivo que estaban viviendo. Un tema sin cortes, sin cabinas aisladas ni distintas pistas. Músicos juntos caminando al mismo son. La mezcla de sonido ha ido a cargo del ganador del Grammy Jerry Boys, responsable también de discos de Buena Vista Social Club, Omara Portuondo, Ibrahim Ferrrer o Ali Farka Touré.
Esta edición limitada y exclusiva de Say it Loud Records incluye ambos tracks y ha sido planchada en Krakatoa Records, un lanzamiento hecho con cariño y amor a la música que supone la segunda referencia en vinilo de la banda.
A guarachar!!
[CAT]
Tarquim és un lloc natural de creació a partir de l'estudi de diferents tradicions folklòriques. Un atuell, un gresol que acull anys de matèria i la converteix en música. Tarquim és Pau Vidal. Un jove saxofonista, flautista i compositor que es va fer un nom en l'escena musical participant en projectes de grans artistes com Judit Nedderman i les Sey Sisters en el grup The Gramophone Allstars, del qual és membre.
Una extensa carrera on va demostrar el seu domini de la música llatinoamericana, el jazz, soul i el rocksteady, entre altres.
Tarquim, el productor, compositor i multiinstrumentista Pau Vidal, va donar a provar el primer plat del seu nou treball amb "Me Despido de Ti" en la intimitat del confinament, un escenari domèstic, privat i solitari. Ara, amb l'arribada del bon temps, "Pa` la Calle" surt a l'exterior al ritme de guaracha, gènere cubà. El món torna a prendre els carrers mentre Tarquim compon la banda sonora d'aquest moment cantant "Codo a codo somos mucho más que dos" de Mario Benedetti. Així, el seu segon single es converteix en una oda al retorn als carrers, reivindicant-les com a part essencial de la vida col·lectiva.
Amb aquest desig de tornar a ajuntar-se, després de llarg temps en petits formats, Tarquim amplia la secció de vents per a l'ocasió. Introduint trompeta i trombó amb Yuri Hernández i Albert Costa, músics reconeguts que acompanyen a artistes com Nathy Peluso. Una banda sòlida que camina entre la música popular de ball i la improvisació de latin-jazzera característic de Tarquim.
"Pa' la Calle" és un enregistrament fet en directe, presa rere presa, fins a trobar aquella que, sota les imperfeccions del directe, definís el so col·lectiu que estaven vivint. Un tema sense corts, sense cabines aïllades ni diferents pistes. Músics junts caminant al mateix so. La mescla de so ha anat a càrrec del guanyador del Grammy Jerry Boys, responsable també de discos de Bona Vista Social Club, Omara Portuondo, Ibrahim Ferrrer o Ali Farka Touré.
Aquesta edició limitada i exclusiva de Say it Loud Records inclou tots dos tracks i ha estat planxada a Krakatoa Rècords, un llançament fet amb carinyo i amor a la música que suposa la segona referència en vinil de la banda.
A guarachar!!
[ENG]
Tarquim is a natural place of creation from the study of different folk traditions. A crock, a pot that hosts years of matter and makes it music. Tarquim is Pau Vidal. A young saxophonist, fluutist and composer who made a name on the music scene by participating in projects by great artists such as Judit Nedderman and the Sey Sisters in the group The Gramophone Allstars, of which he is a member.
An extensive career showed his mastery of Latin American music, jazz, soul, and rocksteady, among others.
Tarquim, the producer, composer, and multi-instrumentalist Pau Vidal, gave the first deck of his new work with "Me Despido de Ti" in the privacy of confinement, a home, private and lonely stage. Now, with the arrival of good weather, "Pa' la Calle" is outdoors at the guaracha rhythm, Cuban genre. The world takes back to the streets while Tarquim composes the soundtrack of this moment by singing"Codo a codo somos mucho más que dos" of Mario Benedetti. His second single becomes an ode on his return to the streets, claiming them as an essential part of collective life.
With this desire to rejoin, after long in small formats, Tarquim expands the wind section for the occasion. Introducing trumpet and trombone with Yuri Hern.ndez and Albert Costa, renowned musicians who accompany artists such as Nathy Peluso. A solid band that walks between the danceable folk music and the improvisation of Tarquim's characteristic jazz jazz.
"Pa' La Calle" is a live recording, taken after taken, until it is found that, under the imperfections of the direct, defined the collective sound they were living. A courtless subject, with no isolated booths or different clues. Musicians together walking on the same sound. The sound mix has been carried out by Grammy winner Jerry Boys, also responsible for Bona Vista Social Club records, Omara Portuondo, Ibrahim Ferrrer or Ali Farka Touré.
This limited and exclusive edition of Say it Loud Records includes both tracks and has been scheduled in Krakatoa Records, a release made with affection and love to the music that represents the band's second vinyl reference.
A guarachar!!